Hydrafacial
---
The best 60-minutes of your skin's life! At Magnolia, each and every hour-long Hydrafacial MD® is customized to improve your skin after the first treatment while you relax.
---
Only HydraFacial uses patented technology to cleanse and peel, extract and hydrate and fuse and protect your skin. The HydraFacial treatment improves the appearance of fine lines, wrinkles, congested and enlarged pores, oily or acne-prone skin, hyperpigmentation and brown spots. The HydraFacial procedure is suitable for most skin types, including thin or aging skin, ethnic skin, and dry or oily skin.
---
Your treatment starts with a deep cleansing using a special wand with patent-pending tripe action tip. This simultaneously exfoliates while penetrating a deep cleansing solution into your skin uncovering a new layer of skin!

Next up, your skin is gently exfoliated with an abrasive wand and then bathed in a light chemical peel. This is followed by comfortable suction assisted extractions of blackheads and skin congestion.

To finish, your skin is treated to a cooling infusion of antioxidants, humectants and nutrients to help maximize your glow!

There is no discomfort or downtime, and you leave the spa with an instant gratifying glow!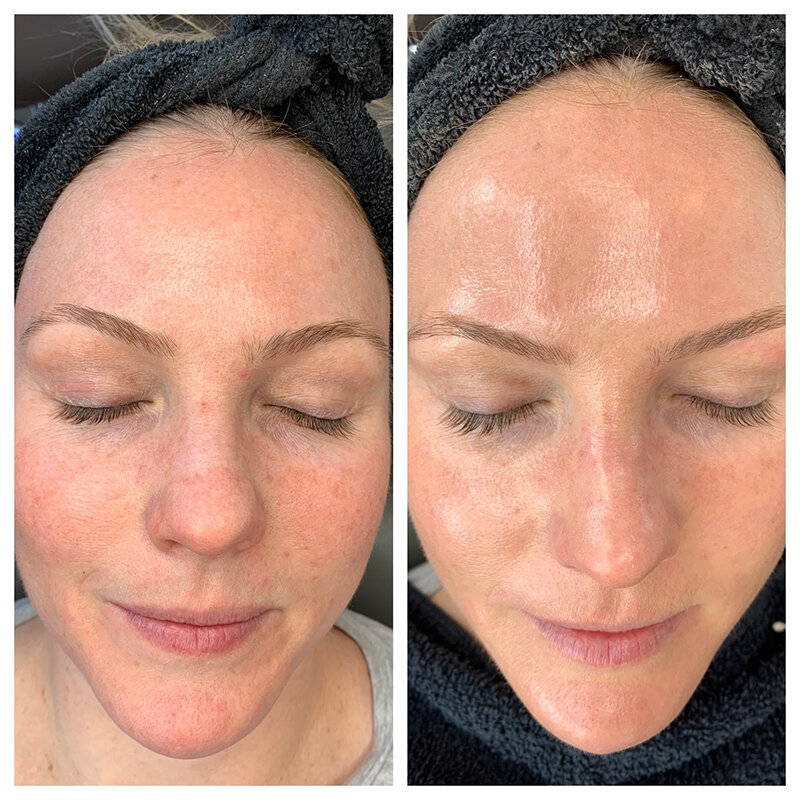 ---
---
Hydrafacial Deluxe — Struggling with stubborn breakouts? Like the Signature Hydrafacial, this treatment utilizes the same steps of purifying and nourishing the skin, as well as extra steps that are utilized to fight and prevent acne. Customized steps can include mild peels, detoxifying masks, extractions an high frequency electrode. This acne-focused treatment is perfect for clients who are looking to clear their skin and prevent future breakouts.
Hydrafacial/Microneedling – A match made in skincare heaven! Maximize your Microneedling results by combining it with our Signature Hydrafacial! When combining these two treatment, the results are amplified due to the deep cleansing and detox you receive before your needling session! This combo is perfect for clients who are looking to shrink their pores and have tighter, smoother skin.
Our Licensed Aestheticians recommend scheduling your treatments every 4 weeks for skin maintenance. If you have an upcoming special event, it is best to schedule your Hydrafacial MD 1 to 2 days prior.
---
Join us for updates you'll probably want to know


 about, including promotions, and much more.